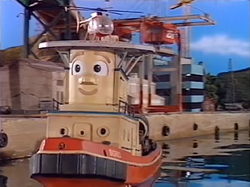 StarSwitcher07
About Me
Hi, I'm StarSwitcher07, (formerly Usthomasepisodes) one of the admins over at the TUGS Wiki. I am an extreme fan of both shows (TUGS, and Theodore Tugboat), and I strive to make this wiki is good as possible if I can help it. My favorite characters have to be Digby, Sigrid, and George. My favorite episode is True Blue Friends.
My Theodore Tugboat Collection:
BRIOS:
Theodore (x2) ($12, $12)
Hank (with box and BRIO Pamphlet), ($12)
Emily ($12)
Barrington ($12)
Great Ocean Dock with Dispatcher ($12)
ERTL Diecasts:
A Lot of 7:
Theodore
Hank
Emily
Foduck
George
Carla
Constance
NIB Rebecca
NIB Northumberland
NIB Shelburne
Great Ocean Dock (No Brunswick)
Changing Face Toys:
Theodore & Hank (Purchased in a 2-Tug Lot, $20.80)
VHS Tapes:
Hank and the Nightlight ($27.00, Canadian)
Theodore and the Treasure Team ($27.50, Canadian)
Theodore's Friendly Adventures ($10, was sealed)
Big Harbor Bedtime ($2)
Theodore Helps A friend ($20, was sealed)
Theodore's Exceptional Friends (Gave to me from Tug97)
Nighttime Adventures ($15, was sealed)
Underwater Mysteries ($5)
Theodore's Big Adventure - ($9)
Nighttime Adventures Screener - ($10)
Community content is available under
CC-BY-SA
unless otherwise noted.