Welcome to Our Wiki!
If you are new, or old, to our wiki, be sure to check out our rules.
Please be sure to check out our announcements, to find out what is happening on our wiki.
Thank you - ZEM, BoCo, PNR, and Tug97.
Meet the Characters!
Featured Article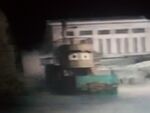 Haliburton is the mysterious lurking old houseboat that still floats around Dock Number 23.
He has been living around Old Dock Number 23 ever since. But as time accumulated, Dock Number 23 was slowly being forgotten. Haliburton is probably the last boat that still lives around Dock 23.
Read more...

Fanon Wiki

Also visit our Theodore Fanon Wiki where you can make fanon Theodore Tugboat articles.
Create A New Article
Type in the article's name below:
<createbox> preload=Template:PreloadTemplate editintro=Template:PreloadTemplate width=25
</createbox>
Community content is available under
CC-BY-SA
unless otherwise noted.