"Huh? What happened?"
— Gerta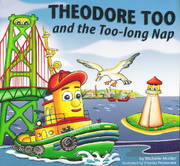 Theodore Too and the Too-long Nap is a book published by Nimbus Publishing. Written by Michelle Mulder. Published 2006-present and illustrated by Yolanda Poplawska.
Plot
It is Theodore Too's birthday and there was a special guest for Theodore's birthday, a cruise ship named Gerta who has come all the way from Germany. Theodore, Lucy, and Guy try to wake her up just not to miss the party.
Characters
Goofs
On the boardwalk there are no railings which could be very dangerous.
Gerta's eye and mouth are missing in her first illustration.
In one illustration Macdonald bridge is missing his railings.
In the last illustration all of the tugs and the lighthouse are taller than Macdonald Bridge.
The cake and ice cream are floating on the water.
Gerta has her mouth underneath her eyes but her mouth was on the bow in one illustration.
In some illustrations Theodore and Lucy's door window is missing.
In the illustration of Theodore trying to wake up Gerta, two trees beside Pier 21 appear and then on the next they disappear.
Gallery
Community content is available under
CC-BY-SA
unless otherwise noted.