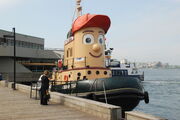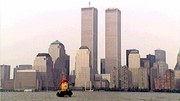 Theodore Too is a life size tugboat based on the fictional tugboat Theodore from the television show Theodore Tugboat. Theodore Too was first launched in April 19, 2000. In June 2020 Theodore Too was put up for sale for $495,000. He was purchased one year later by Blair McKeil and has been moved from Halifax Nova Scotia to Hamilton Ontario in order to help promote water conservation. On June 17th 2021 Theodore departed from Halifax and arrived at Hamilton on July 18th after making multiple stops to Montreal, Oshawa, Kingston and Toronto.
Building
Theodore Too was commissioned by Cochran Entertainment, Inc., it is now a defunct production company. Theodore became so popular, the company constructed a life-size model of him for marketing and promoting water safety. The boat is unusual as it is a full-size replica of a scale model. The original model which was used to film the series and inspired Theodore Too can be seen at Halifax's Maritime Museum of the Atlantic. The boat made a tour of cities on the American East Coast in its first year and participated in tall ship events After Cochran Entertainment went out of business, the boat was purchased by a Halifax tour boat company, Murphys on the Water. The vessel provides tours of Halifax Harbor in the summer, operating from the Cable Wharf in downtown Halifax. Theodore Too was designed by Fred Allen and was built at Marius Lengkeek of Lengkeek Vessel Engineering, and was built by Snyder's Shipyard in Dayspring, Nova Scotia, Canada.
Trivia
Theodore Too's base model was sold on eBay.
Denny Doherthy and Andrew Cochran were on board Theodore Too during his launch.
Theodore Too docked outside the Maritime Museum of the Atlantic, alongside the S.S.Acadia. before being sold in 2021
Despite the show ending back in 2001 Theodore Too is still in tour service for nearly 20 years although changing owners and locations over the years.