"Do you think he's dangerous?"
— George wondering about Snorri, "Snorri the Viking Ship", second season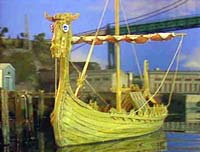 Snorri
Snorri is a viking ship that arrived in the Big Harbour.
Bio
At first the tugboats all think Snorri is mean when he snorts at them, but they soon learn that he just isn't familiar with the way they say hello. Once they get to meet him, they find out that he is really friendly and enjoys telling stories about the Vikings from long ago.
Basis
Snorri is based on a Gokstad ship. The head of Snorri is based on an animal-headed post found among the Gokstad grave furnishings in Norway.
Appearance
Triva
Snorri is the second boat who uses a sail to move, the other being Bluenose.
Gallery
Community content is available under
CC-BY-SA
unless otherwise noted.