"He, he! You gonna cry now?!"
— Oliver, Theodore and the Bully, third season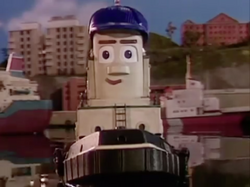 Oliver
Type: Ocean Tug
V-word: Vast
Oliver the Vast is a tugboat from another harbour with a blue cap.
Bio
Oliver is a large ocean tug, brought to the Big Harbour to help move Owan. He is disliked by both George and Owan because of of how mean-spirited and nasty he is, and especially took pleasure in bumping and bullying Theodore, no matter how hard Theodore tried to be friends with him. George's hatred toward Oliver only grew when he saw him bullying Theodore, who eventually told the Dispatcher, who then sent Oliver home in disgrace.
Appearances
Trivia
His model was later used for Sigrid while his stack was used for S.S. Malarkey and Chester.
Unlike George, Foduck, and Emily, he does not carry his V-Word (The Vast) on his back, only his name, Oliver.
His model is currently in storage at Maritime Museum of the Atlantic, but is in the form of Sigrid.
Oliver is the only tug outside of the main five to appear in the TV series.
Gallery
References