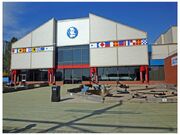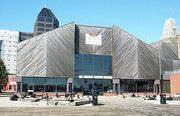 The Maritime Museum of the Atlantic is a Canadian maritime museum located in downtown Halifax, Nova Scotia.
The Maritime Museum of the Atlantic is a member institution of the Nova Scotia Museum and is the oldest and largest maritime museum in Canada with a collection of over 30,000 artifacts including 70 small craft and one ship: the CSS Acadia, a 180 foot steam-powered hydrographic survey ship launched in 1913. Some of the Theodore Tugboat TV models are on display here. Others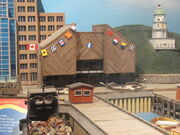 are part of the museum's collection but are in storage. The Museum itself appears in the Theodore Tugboat series as an accurate model of the museum's south wing and anchor yard. 
History of the Display
The museum and Cochran Communication built a Theodore Tugboat exhibit in 1999 using the television production models when the series was still being broadcast. When the show ceased production, some models were put in storage but the museum retained and a large display showing the Halifax side of the Big Harbour and many o
f the key characters. Additional Theodore models have since been donated by the family of Fred Allen. Three additional characters were taken out of storage and displayed in May 2013. In March 2014, an Instagram user named DG_Kay97 uploaded some of the models that were once displayed. Amongst Emily and Clayton, they also included Owan the Oil Rig, Sigrid and Colchester (only the front part of him is showing).
The TV models
Tugboats
Boats
Barges
Ships
Buildings
Docks
Others
Trivia
Gallery
Original Display
2004 to 2017 Display
Current Display
Refrences
Community content is available under
CC-BY-SA
unless otherwise noted.