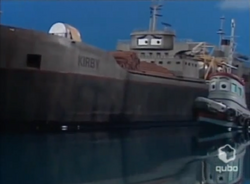 Kirby
Type: Cargo Ship
Country: England
First Appearence: Theodores First Pull
Last Appearence: Theodores First Pull
Kirby is a nervous cargo ship that is loaded with telephone poles from England. He was supposed to be towed by Theodore and Emily into the harbour. After Theodore bumped into Kirby, some of his telephone poles fell into the sea, and he nearly left the harbour back to England. When Pearl explained the incident, Kirby accepted to be towed back into the harbour by Emily and Foduck. Later, Theodore and Emily found the poles floating in the harbour and safely returned them back to Kirby.
Appearance
Trivia
Gallery
Community content is available under
CC-BY-SA
unless otherwise noted.