"That hurt!"
— Gloria Cornwallis, Bumper Buddies, first season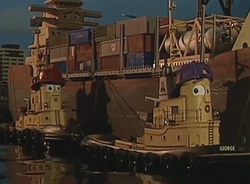 Gloria Cornwallis
Gloria Cornwallis is a big container ship.
Bio
Gloria Cornwallis only spoke in the episode Bumper Buddies, when Theodore, George, and Foduck took her out of the harbour and Theodore accidentally crashed her.
Personality
Gloria Cornwallis can be described as a sensible container ship. She doesn't like being bumped.
Appearances
Trivia
Gallery
Community content is available under
CC-BY-SA
unless otherwise noted.