"GHOST!"
— George and Theodore
George's Ghost
Director(s)
Producer(s)
Writer(s)
Narrator
Previous episode
Next episode
George's Ghost is the second episode of the second season.
Plot
George likes his reputation for being the tug who is always right. But a trip to Shipwreck Rock shakes his confidence. Theodore had reported seeing a ghost at the rock, and even though George had insisted that there were no such things as ghosts, he sees the ghost too. The big tug is saved from having to admit he was wrong when he and Theodore discover that the 'ghost' is only Digby stuck on top of a rock. George considers gloating, he was right about ghosts after all. But when he sees how foolish Theodore feels for thinking that Digby was a ghost, George helps his friend by admitting that he made the same mistake. To his surprise, George finds out that it feels okay to admit that he isn't always right.
Characters
Trivia
This episode marks the first appearance of Digby.
Denny Doherty was nominated for a Gemini Award for best performance in this episode in 1995.
Going by filming order, this is the third episode of the second season.
This is the first episode not to feature Benjamin Bridge.
This is one of the few episodes that does not feature the closing music.
Goofs
When George turns off his engine to listen, studio equipment can be seen in the top right corner of the screen.
In Other Languages
| Language | Name | Meaning |
| --- | --- | --- |
| Norwegian | Georgs Spøkelse | George's Ghost |
| Finnish | Haamulaiva | Ghost Ship |
| Danish | Georgs Spøkelse | George's Ghost |
| Swedish | Spöket | Ghosts |
Video Release
Watch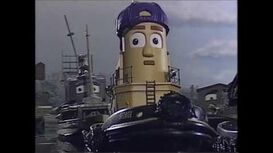 Community content is available under
CC-BY-SA
unless otherwise noted.