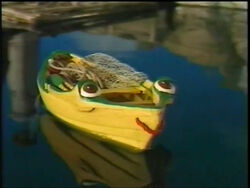 Dorothy
Dorothy is a fishing dory who lives in Ceilidh's Cove with Truro.
Bio
She looks up to both Truro and Theodore as older siblings. She is always loud and bursting with questions for Theodore and all the other tugboats that come around the cove. She once had a 'Girls Night Out' with Emily, Sigrid, and Carla. [1]
Persona
She can be described as being very friendly, young, enthusiastic, and always bursting with questions for what it's like in the Big Harbour.
Appearances
Trivia
Her model is currently on display at the Maritime Museum of the Atlantic.
She has a small red rope across her bow. Because it often droops downards, it gives the impression to the viewers that it looks more like a smiley mouth shape. It also goes upwards sometimes to show a frown but this is a rare occurrance.
When she first appeared, her eyes were bulged out a little but after that, they appear flat.
Dorothy is one of the few Theodore Tugboat characters to have different colored eyes outside of the traditional black eyes
References
Community content is available under
CC-BY-SA
unless otherwise noted.