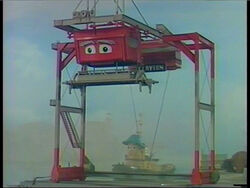 Clayton
Type: Container handling gantry crane
Clayton is a crane who lives at the Container Terminal under Benjamin Bridge. He has a giant grabbing arm, which is used to load and unload containers for the ships that are docked in the Big Harbour. He is usually very nice, and is a good friend of the tugboats. There was once a time that Theodore wanted to be a harbour crane just like him but then learned that even though they're different they are both good at what they do.
Appearances
Trivia
His model is currently on display at the Maritime Museum of the Atlantic.
Before his introduction, a faceless gantry crane was on his space.
His Brio model is based on the Brio overhead crane introduced the same year.
Merchandising