"Cool!"
— Carla's catchphrase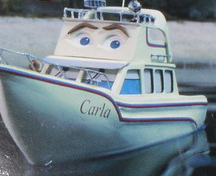 Carla
Carla is a zany cabin cruiser who only works to please herself.
Bio
She loves to give the tugs funny nicknames and usually refers to the Dispatcher as the "Dishwasher". Carla is always looked at as "cool" because she is never afraid to do what she wants. She occasionally runs out of control and causes peer pressure on all the tugs. Carla mainly hangs out with Emily and loves to go exploring with her. Whenever Carla goes over the line, Emily is usually the one to tell her so and Carla always knows when she makes a big mistake.
Persona
Carla can be mischievous and troublesome since she always wants the tugboat's attention just to have an adventure, if not she can hide barges and other goods which causes confusion. She also likes things to be thrilling in suspense and surprises with her friends. She is also not shy and very hyper at times.
Livery
Carla is painted cream white with maroon linings around her bow and cab.
Appearances
Trivia
Carla's model is currently on display at the Maritime Museum of the Atlantic.
Carla is the only cabin cruiser seen in the series.
Carla is one of the many characters in the series who speaks in all of her appearances.
Carla is one of the few Theodore Tugboat characters to have different colored eyes outside of the traditional black eyes
Merchandising