"I steered off course. I didn't see that rock...until I hit it!"
— Canso Colossus, Nautilus and the Sinking Ship, fourth season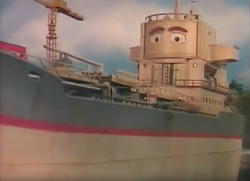 Canso Colossus
Canso Colossus is referred to as "the king of all supertankers", who talks with a very squeaky voice. Canso's biggest pet peeve seems to be "yucky stuff". He visited the Big Harbour when Guysborough refused to pick up garbage, resulting in "yucky stuff" floating in the water and making him want to leave. Once, on the way to the Harbour, he steered off course, crashing into the Pictou Peaks and damaging his hull. He was eventually saved from sinking by Nautilus, Theodore, George and Foduck.
Appearances
Basis
He is loosely based off the Pierre Guillaumat supertanker.
Trivia
Canso's hull was recycled from Cumberland and Colchester.
In the fourth season episode "Sigrid and the Bumpers", Canso is portrayed as a female container ship. He was also confused for a container ship (while keeping his name) in "Theodore's Bright Idea".
His name comes from the small fishing town of Canso in Nova Scotia.