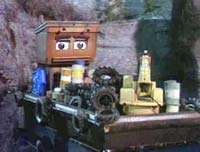 Bonnavista
Bonnavista is a small red barge who usually works with Hank. She is always calm and content with whatever goes on. Carla once towed Bonnavista to a little cove in a way of getting attention and got Emily in trouble. A friendly hard worker, she is constantly working up and down the harbour, repairing all the docks, bridges and buildings along the shoreline, keeping it generally maintained.
Appearances
Trivia
Merchandise
Community content is available under
CC-BY-SA
unless otherwise noted.